The RallyComp 300R is a version of the top model RallyComp300.
The RallyComp 300R has the same functions as RallyComp300 plus special buttons and extra connection on the back-side for the Hidja RemoteBox. RallyComp 300R together with the RemoteBox gives the co-driver the benefit of two sets of buttons to full manuvere the trip meter even if it is mounted so it is hard to reach the instrument. The RallyComp 300R can be used without the RemoteBox.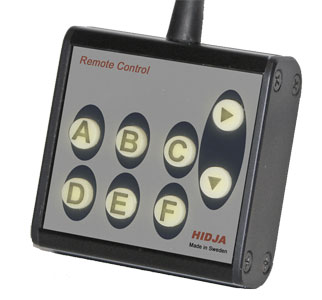 The RemoteBox is simply an extra box with buttons to manuvere the trip meter. The buttons on the RemoteBox and the instrument can be used in parallel.
Features
LCD-display
English display language
Display with one main window and one side window
Km/h / mph
Two Favorites set ups in display
Stop
Split
Set
Reset
Clear
Copy to side windows
Contrast setting
backlight setting
Inverting of display
LCD-display and buttons with amber backlight
External Reset possibility (remote)
External Stop/Split possibility (remote)
Automatic reverse driving reduction of trip registers
Developed and produced in Sweden
Menus and functions
Trip
Three trip registers that can be separately reset or set or a predefined value.
Odometer
There is an odometer function that measures total distance travelled.
Time / Clock
Stop watch with stop and split functions
Automatic start of SS-timer
Estimated time of arrival
Clock
Speed
Current speed
Average speed
Speed pilot
Max speed, with free spinning wheel correction
Speed limit warning setting
Car
Amount of fuel
Technical data
| | | |
| --- | --- | --- |
| | Power: | 12V DC (~100mA or ~20 mA in power save mode) |
| | Weight: | 370 g |
| | Length: | 150 mm |
| | Width: | 75 mm |
| | Depth: | 30 mm |
| | Material: | Black eloxal aluminium |
| | | CE-approval |